2-Month Instant Income Subscription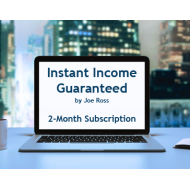 Can you imagine discovering a way to trade that promises instant income and carries a money-back guarantee that you will not suffer a loss? If you think such a method is impossible, think again. It is definitely achievable, and everything you need to know to attain it is available online in a special two-part online webinar along with two-months of daily guidance.
With Instant Income Guaranteed, Joe Ross and Philippe Gautier will provide you with the following:
Two-part webinar – In Part I, Joe Ross outlines the strategy.  Beginning and experienced traders will discover new information!  In Part II, Joe Ross walks you through various trades and scenarios.  In just a few hours you will be prepared for actual trading, which can begin as soon as you feel ready.  As an added bonus, these webinars are available to access anytime you want to view again.   

Two-month guidance period – Philippe Gautier provides day-by-day guidance for two months from the time you begin the course.  Trades will be suggested for your consideration.  You do not have to take any of the trades; however, you will begin to understand that even with a small account your money can begin to compound.  Everything you need to know will be revealed in the webinars and this guidance period. 
Money-back Guarantee – Trading Educators guarantees you will not lose any money as long as you take only the trades offered and manage them according to provided instructions.  However, if at the end of the two months of training you have lost more money than you have made from taking the suggested trades and managing them as instructed, you will receive a full refund of your webinar fee. 
IMPORTANT: After we manually verify your order, you will be sent an e-mail containing a Non Disclousre Agreement that you will need to sign and return to us.  After we have received the signed Non Disclosure Agreement, you will receive a second email with access information. The initial email with the Non Disclosure Agreement will be sent within 24-hours during our regular business hours.  If you have not received the Non Discloure Agreement by that time, please contact us via e-mail This email address is being protected from spambots. You need JavaScript enabled to view it. or phone:  +1-512-249-6930 (Ross Trading), so we can resend it to you.  Please check your junk/spam folder before you contact us.