Money Master Advanced Strategies - Recorded Webinar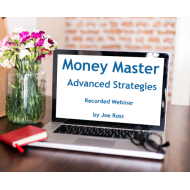 IMPORTANT: You cannot access the webinar unless you have first purchased and read the Money Master eBook. The eBook is prerequisite for fully understanding the course.
In the webinar "Money Master Advanced Concepts", Joe shows you how to "fine tune" some of your trades for even greater profitability with only minimal additional effort, how to protect
IMPORTANT: After we manually verify your order, you will receive an email containing your access information. Your order will be fulfilled within 24-hours during our regular business hours. If you have not received your email containing the access information by that time, please contact us, so we can resend it to you. Be sure to check your junk/spam folder before you contact us.