Traders Notebook Seasonal Spread Trading
WELCOME TO ANDY JORDAN'S NEWEST PRODUCT
Traders Notebook Seasonal Spread Trading
TNSST
EMAIL QUESTIONS TO This email address is being protected from spambots. You need JavaScript enabled to view it. - SIGN UP TODAY!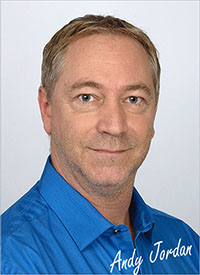 Andy Jordan presents
Traders Notebook Seasonal Spread Trading
TNSST
6-Months of Intensive Forward Testing
This new trading service was created from Andy Jordan's very successful and profitable Traders Notebook Complete that has been operating since 2003. Andy knows spreads and is an expert in this market along with mentoring under Joe Ross since 2002.
Watch this informative video about TNSST:
SUBSCRIPTIONS:
TNSST is part of Traders Notebook Complete
Q: Andy, you have been running Traders Notebook, that also includes seasonal spreads, for over almost 17 years. Why are you coming up with a new spread trading service?
Andy: The spread trading from Traders Notebook, or trading in general, has changed quite a lot over the years. When I started in 2003, all trading was done on the trading pits. We had to call the broker to place the orders or write an email. Everything was much slower and the trading was based mainly on End-of-Day only. My idea was to get back to a very easy and slow way of trading the spreads because not everyone has the time to watch the markets during the day.
Q: Why is it different to what you do in Traders Notebook?
Andy: I've reduced the trading strategy to a minimum. It is mainly based on 3 simple factors. Entry, Exit, Stop-Loss level. Of course, I am moving the stop level during the trade, sometimes taking partial profits, but all this happens not very often and everyone is able to follow the trades in detail besides working full-time.
Q: Tell us a little bit about the procedure. How do subscribers get the signals?
Andy: Over the weekend, every subscriber is getting a PDF with closed trades, open trades and of course, all the new upcoming trades for the next trading week. That's all a trader needs because in this PDF they can find all the details outlined. During the trading week, I will only send out emails or Telegram messages, whenever there are any important changes. As I said, it is very easy to follow all the recommendations.
Q: And the results? How did you do during these difficult times? I can hardly believe markets did move "seasonal" during the last few months.
Andy: Honestly, I thought the same, but the spreads behaved surprisingly seasonal. That's one of the advantages of seasonal spread trading. While outright Futures react much stronger to events and circumstances seasonal spreads behave much more reliable regarding seasonal tendencies. This is why most seasonal spreads are a hedging position (calendar spreads). We are trading the difference of two contracts and therefore the direction of the underlying market doesn't matter so much.
Q: Can you show us the results over the last several months?
Andy: Of course, that's probably what most readers want to know. I've started around the 10th of January with a hypothetical account of $100k and a max. risk of 2% - 3%. The reason why I am using a $100k account is, that it makes the calculation easy. And it allows me to trade low risk. This is what I usually prefer no matter what and how I am trading.

I am tracking all my trades in my SeasonAlgo account. It even calculates commission, which is very comfortable.
Let's take a closer look.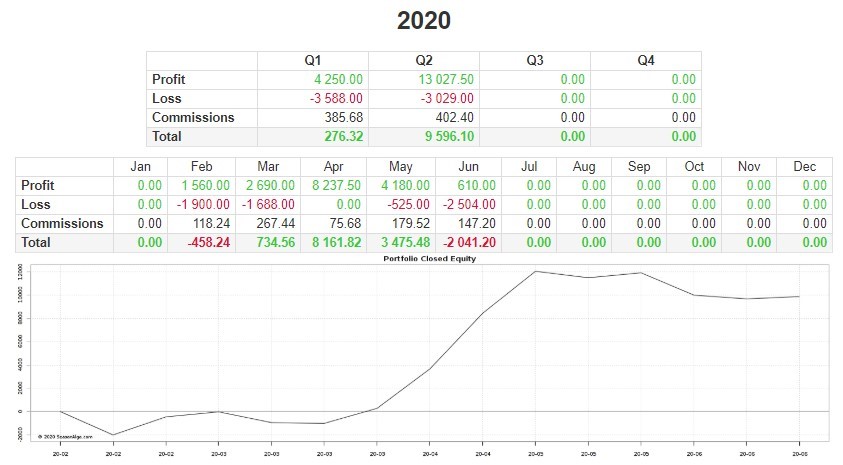 Q1 was very quiet because seasonal spread trading is position trading. I try to hold positions for weeks or even months. Today 06/23, not done yet with Q2, it looks like it will turn out very well, especially with all the COVID-19 problems we see worldwide the strategy has performed very well. So far, we are down in June, but keep in mind, that we have an open position of about $1,700 at the moment I am writing these lines (06/23). I am very happy with the results so far to be honest!
Q: When will it be available?
Andy: Right now it is only available for Traders Notebook Complete subscribers. It will stay part of the TN Complete package, but we plan to make it available as a separate product the end of July.
Spread Trading is the most profitable and easiest way to trade. Learn from Andy Jordan. Train under Andy Jordan. Join Andy Jordan's trading team.
Consider Private Mentoring with Andy Jordan to improve your understanding about spread trading and strenghten your trading plan.
EMAIL QUESTIONS TO This email address is being protected from spambots. You need JavaScript enabled to view it. - SIGN UP TODAY!
SUBSCRIPTIONS:
TNSST is part of Traders Notebook Complete