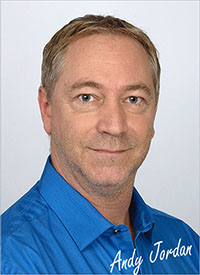 Andy Jordan
Educator for Futures Trading Strategies in
Spreads, Options, Swing and Day Trading.
Andy Jordan made his first Options trade at the age of eighteen. Since then, he has been fascinated by the world of trading. In 2002, he met Joe Ross, and became interested in Spread trading. Andy was then intensively tutored by Joe Ross and other personnel at Trading Educators.
Over the years, his trading knowledge became more broadened by adding Options and Swing/Day Trading to his repertoire. He successfully administered a daily Spread Trading newsletter called Traders Notebook.
Andy's trading philosophy is something he learned within his first year from Joe Ross and that was discipline makes all the difference in trading. A trader must be able to follow their trading plan 100% and therefore the trading plan, and all of its components, has to fit the trader's mentality.
"Simplicity" is the word that Andy feels it describes best for what you need to look for in trading. A simple trading approach doesn't give much room for mistakes or doubts and allows execution with trades following a very disciplined trading plan.
Too many traders believe that the "holy grail of trading" can be found with some magic indicators or some unbelievable reliable chart formations. They completely overlook the main factor in trading: themselves!
Learning how to trade takes time. It takes time to learn the basics, but it also takes time to find out who you really are and what kind of trading best fits your personality.
Trading Educators and Joe Ross is the place where Andy's successful trading career started a long time ago. Start your trading career right here; you are in the right place!
In addition to his trading, Andy has developed several trading systems with exceptional track records. The most recent one, Stealth Trader, is a very robust breakout system which works in numerous markets without the need of adjusting any parameters.
For those interested in one-on-one personal coaching, Andy has developed and instructs a one-month online mentoring in "Trade with a Pro," program in which he demonstrates all aspects of trading from choosing the trades, learning how and when to enter the trades, manage, and exit the trades. In this one-month mentoring, he also thoroughly covers the psychological side of trading, which plays a major role in trading.
Andy Jordan was born in Germany in 1965, and currently lives in the Caribbean. He majored in mathematics and business administration in Regensburg and Hagen, and holds a PhD in mathematics.
Invest in yourself and visit Andy's private mentoring page!