Trading Educators Blog
#1 Trading Blog Site
Stop-Running or What?
Of course I have watched the ECB Press Conference today at 7:30 AM CT (Thursday 03/10) together with the markets. I did not intend to enter any trades before Draghi had his moment and I was surprised by the strong down move at 6:45 AM CT. In just a couple of minutes the Euro FX went down about $1,600. Stop running or was it because of the ECB announcement of lower interest rates (actually everyone was expecting this move from the ECB) at 6:45 AM CT?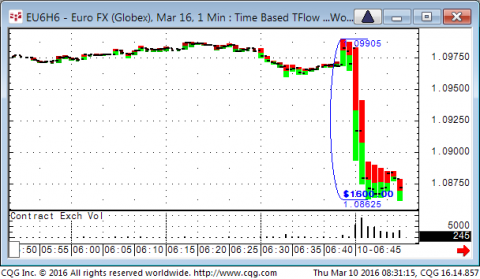 After the news were out the market went up to were it came from, it moved even a bit higher (move to the up-side about $3,600 this time).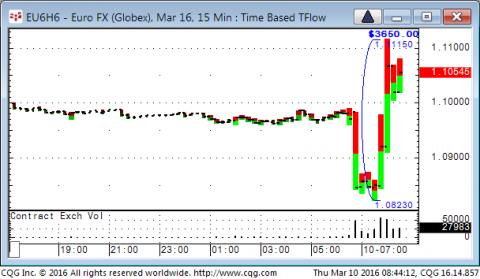 Honestly, I am never sure how to interpret these moves. All I know is, these moves happen from one moment to the next and are difficult for me to trade. As soon as I now what is going on the market turns around and goes the other way. This happens quite often.
Well, stop running or not, for the ones trading on daily charts it was probably a "kick-out-day" today while for day traders or scalpers the volatility might actually help.
Did it help with my own trading today? Honestly – NO. I don't like to trade related markets (currencies today) on these kind of announcements. I took a short trade in the Notes and maybe I will trade the Grains or the Meats later, we will see.
Good trading,
Andy Jordan
Comments
No comments made yet. Be the first to submit a comment