Trading Educators Blog
#1 Trading Blog Site
Time to sell the JPY?
Hi Traders,
after a much needed vacation I'm back from the hills where I could hike long enough to get all relaxed and clear headed again!
Now back to the markets, when it comes to currencies, everyone is talking about the Yen these days, especially against the USD (USD/JPY).
And yes the USD/JPY dropped quite significantly during the last two weeks, but for the Yen this isn't that unusual. Still it might be an interesting market to watch soon as it's heading into a major support zone and from a statistical perspective a 2-3 days bounce can be expected.
Looking at the charts, a potential good level to get long is at 105.50, valid for the next 2 days. If it doesn't hit that level within the next 2 trading days, forget about it.
A possible volatility based stop-loss that gives us a good possibility to not get stopped out by market noise would be at 103.00.
Regarding trade management, I wouldn't suggest to use a profit target and instead simply get out at the close after the first two up days after the entry. Also on such a counter-trend trade, it doesn't make sense to trail the stop-loss to breakeven or other levels as the probabilities to get stopped too early are very high (often the market retests these levels before moving in the right direction).
Note: I won't take this trade myself since I'm already positioned short the Yen. Also this isn't a trade recommendation, just a trading idea for educational purposes.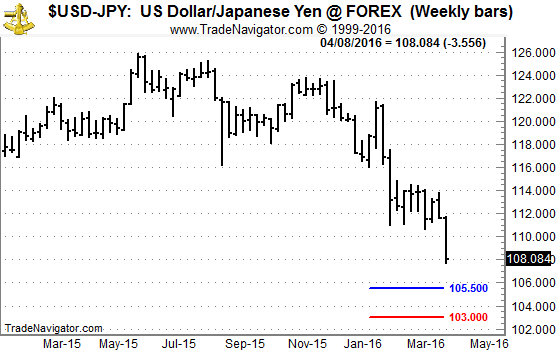 Comments
No comments made yet. Be the first to submit a comment